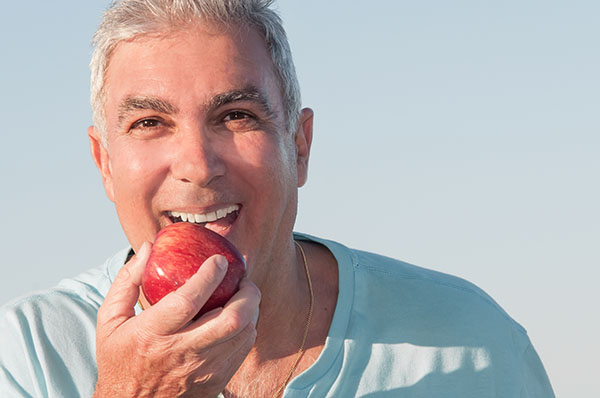 Patients who are ready to take the step and get dentures now have more options than would have had in the last five to 10 years.
As dental technology continues to advance, patients who have one or more missing teeth now have several options for them to choose from with their dentist.
For individuals that are ready to get the process of getting their dentures done, and do not want to deal with going to multiple appointments, may be more likely to choose same-day dentures to meet their tooth replacement needs in a more time-efficient manner.
How do same-day dentures work?
One of the first questions that patients have for their dentist when they find out that they could be a good candidate for same-day dentures is how exactly these dentures work compared to other methods. It sounds too good to be true, right?
Same-day dentures, also known as same-day dental implants, are a tooth replacement solution for individuals that are looking to have one or more multiple missing teeth replaced. This can also include a full set of teeth for their mouth, which means a complete transformation in one day.
After all of the patient's teeth have been removed, immediately following the extraction of all of the natural teeth, an immediate replacement is put in place. This is to ensure the patient has teeth to use and is not toothless for any amount of time.
The difference between immediate and regular dentures
Regular dentures are crafted by taking a mold of the patient's mouth and then specially crafting the dentures for the patient. After the patient's mouth and gums have healed from having all the teeth removed, the dentist would have the newly crafted dentures to insert and fit in the patient's mouth.
The same-day dentures are molded and crafted before the teeth and extracted by the dentist. Once the teeth are removed, the dentures are inserted into the oral cavity. The benefits of having same-day dentures will mean that the patient will walk away with a full set of teeth instead of having a waiting period and adjustment with the new dentures.
Are same day or regular dentures better?
It all will come down to the individual needs of the patient for which option is best to choose. Same-day or immediate dentures are typically a bit more expensive. However, regular dentures typically last longer over an extended period without having to repair any issues.
It comes down to having open communication with your dentist to find out the best solution for your oral health needs. Also, a dentist who has a good history of your dental care is a great help in choosing the best solution.
Final note
Have more questions about same-day and immediate dentures?
Give our dental office a call. Our staff is always ready to answer any additional questions you may have about getting dentures and replacing any missing teeth you may have. Talk to you soon!
Request an appointment here: https://www.longgrovedental.com or call Long Grove Dental at (847) 636-5020 for an appointment in our Long Grove office.
Check out what others are saying about our services on Yelp: Read our Yelp reviews.
---
Related Posts
August 1, 2020
Dental veneers are a great way to undergo a cosmetic dentistry transformation. They are commonly used in general dentistry for restorative purposes, however, individuals looking to improve their smile may benefit from having dental veneers …